LIBRARIANS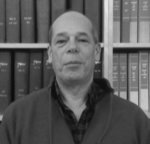 Assistant Librarian
Paul Spencer
Tel: 01608 644777 Ext 7
Paul has spent his working life in IT and currently provides advice to governments at home and abroad.
His interest in Vintage cars was sparked early in life when his school teacher started driving to work in a Morgan 3-wheeler, however it was only in 2003 that he finally took the plunge and invested in a 3-litre Bentley. Later, in a moment of unexplained daring, he also acquired an AC Sociable.
Living just a short commute from the Club office, he felt an obligation to help and is now a much valued Assistant Librarian.