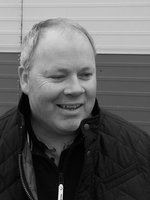 Club Secretary and Chief Executive
Dave Salmon
Tel: 01608 644777 ext 8
Dave was raised in Hagley in Worcestershire and after leaving school joined the Royal Air Force and served on Stations both home and abroad and notably was involved in front line operations as the Intelligence Officer on Number 14 Squadron receiving the campaign medal. However, his primary duties focused on personnel and finance matters with senior staff tours at Headquarters Strike Command and MOD Main Building as he quickly progressed through the ranks.

After almost 20 years of Service, Wing Commander Salmon opted for early retirement and following a briefer foray into the commercial world joined the VSCC in 2014 as the new Chief Executive. In this capacity Dave is responsible for the executive management of the Club and in particular delivery of the extensive calendar of events and services to Members. He also has to ensure that the necessary business aspects are achieved so that the VSCC can continue to thrive and remain one of the most highly regarded motor clubs in the World.

With the support of the Team at The Old Post Office and with help from the Committee, Officials, Volunteers and Members alike Dave quickly developed a very good understanding and passion for all Vintage Sports-Car matters and whilst by no means an expert in the field he attends nearly every Club event each year to continue to develop his understanding - as well as joining in the fun!

Dave enjoys attending monthly pub meets across the UK for an informal chat with local Members over a pint and he looks forward to meeting more and more like minded souls over the years to come.