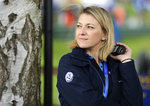 Speed Secretary
Rachael Watkins
Tel: 01608 644777 ext 5
Rachael joined the VSCC in September 2016, having relocated to Oxfordshire from London. After 15 years spent in the capital the lure of the countryside became too great; swapping city views for rolling hills has fulfilled a lifelong ambition.

Since graduating from University with a degree in Dance and Drama Rachael has had a varied career: Working in Paris for 2 years at a well known theme park, touring the UK and Ireland with several theatre companies plus various TV and Film work in and around London.

As well as theatre Rachael has a keen interest in Cricket, born into a cricketing family she hardly had a choice in the matter. Her enthusiasm for the game landed her a job at Lord's, the 'Home of Cricket' working for the MCC Membership Department, which was a great honour.

Originally joining as Competition Administrator, Rachael now takes the role of Speed Secretary and will be the lead contact within the Office for the Club's Speed Championship, including all Sprints and Hill Climbs, leading on all regulatory and administrative tasks, as well as attending many of these events as Secretary of the Meeting.