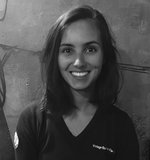 Events and Marketing Assistant
Iris Jenkins
Tel: 01608 644777 ext 4, 5 or 6
In 2016 Iris graduated from the University of Brighton with a BA (Hons) International Event Management degree and is currently studying for an MSc in Marketing at Oxford Brookes University.

Iris joined the VSCC in August 2017 to work as an Events and Marketing Assistant on an initial 12 month contract to help provide additional support whilst the Club's IT Project is being designed, tested and delivered. The VSCC is a welcome change for Iris, having previously worked for a Brighton-based corporate events agency. Iris has also previously worked in the Marketing and PR team for a triathlon and sports show in Brighton and Hove and so she brings with her experience and enthusiasm which the VSCC will no doubt seek to make the most of. Iris has already found working for the friendly VSCC family to be an exciting and varied opportunity and as someone who grew up being taken to car club meetings, as well as vintage and classic car shows, it is not an unfamiliar environment.

Aside from work, Iris loves the great outdoors and you can find her camping, hiking, or exploring the country and being generally outdoorsy at the weekends.